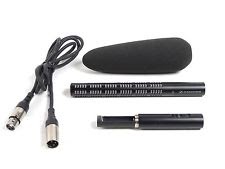 Shotgun Microphone (Wired)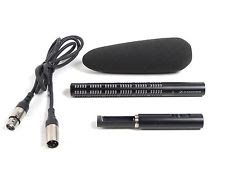 Category:
Level 1, Level 2, Level 3
Includes:
Shotgun Mic
Foam Windscreen
Mini XLR
Soft Carrier Bag
Capture quality sound indoors or outside for your next indie film, TV shoot, or documentary project with the Rode NTG2 shotgun microphone. With low handling noise, the ability to endure loud sound sources before distortion, and support for battery or phantom power, the NTG2 offers a versatile, cost-effective solution for recording clean dialogue and sound effects.
The combination of the NTG2's 11″ long body and supercardioid polar pattern yields focused front-facing directionality and enhanced attenuation of sound entering from the sides. Its low self-noise of 18 dBA and sensitive condenser element communicate detailed audio unburdened by the hiss that plagues many low-cost microphones. Plus, its balanced output allows longer cable runs than most camera-mount shotgun microphones.
Battery or Phantom Powered
Thanks to its 3-pin XLR output and operability with 48V phantom power or a single AA battery, the NTG2 is compatible with a variety of handheld audio recorders, field recorders, and mixer adapters as well as built-in preamps on cameras and camcorders.
Ideal for Boom Pole Mounting
The NTG2 includes a mic clip for easy placement on a mic stand or boompole. Alternatively, mount the NTG2 in the Rode SM4-R shockmount or Rode PG2-R pistol grip (both available separately) to impede the transfer of vibrations in boompole or handheld applications.
Windscreen Minimizes Wind Noise
The NTG2 has a foam windscreen to reduce unwanted wind noise from breezes, fans, heaters, and air conditioners. For maximum reduction of handling noise and wind noise in indoor or outdoor environments, consider the Rode Blimp furry windshield and shockmount suspension system (available separately).