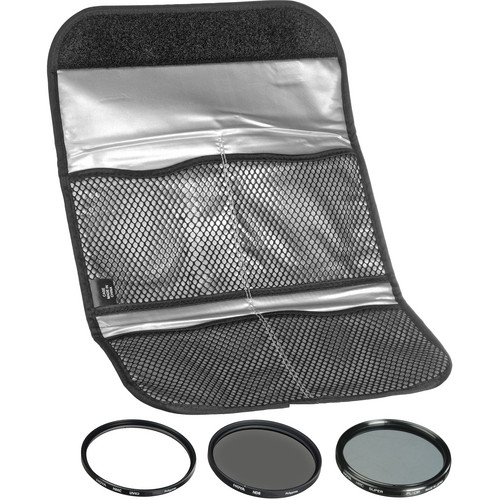 Hoya 72mm Filter Kit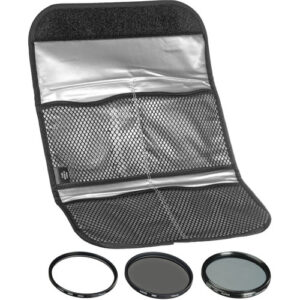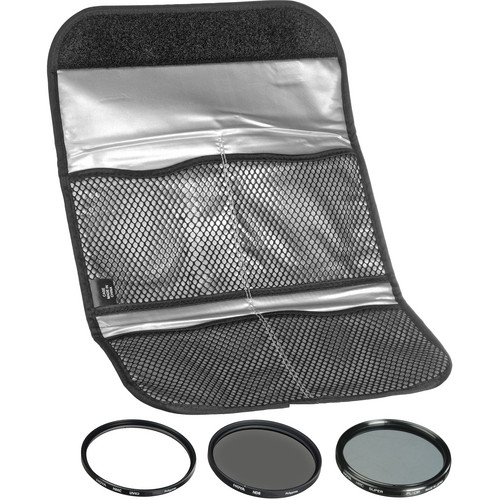 Category:
Level 3
Includes:
72mm Circular Polarizer Filter
72mm Neutral Density (NDX8) 0.9 Filter
72mm UV HMC Filter
Hoya Filter Pouch
The Hoya 72mm Digital Filter Kit II includes a UV (C) HMC filter, a circular polarizer filter, and a 3-stop neutral density filter in a convenient filter pouch. This kit provides everything necessary to get started with filtration for your digital camera.
Absorbs UV light, which can cause outdoor photos to appear hazy and indistinct.
Clear filter provides no additional coloration or contrast, allowing you to pair this filter with others
Works as general protection filter to reduce dust, moisture, and scratches from reaching lens elements.
HMC multi-coating help to reduce flare, ghosting, and reflections on the filter surface for greater contrast and color fidelity. Greater than 97% light transmission is possible, providing additional contrast and high color fidelity.
Circular Polarizer Filter:
Helps to reduce reflections and glare by filtering out light that has become polarized due to reflection from a non-metallic surface.
Polarizing filters arrange, and filter, directionally polarized light perpendicularly to the reflected light, allowing for the absorption of much of the light
Clears up haze in distant landscapes and provides more saturated, vivid colors
Strongest effect when used at a 90° angle from the sun
Circular polarizers are ideal for use with digital cameras and autofocus lenses where a linear polarizer will often disrupt auto exposure and focus features
Neutral Density Filter Uses:
To enable slow shutter speeds to be used, especially with high speed films, to record movement in subjects such as waterfalls, clouds, or cars
To decrease depth of field by allowing wider apertures to be used, which helps separate subjects from their background
To decrease the effective ISO of high speed film (above ISO 400) and allow it to be used outdoors in bright situations
To allow cine and video cameras (which have fixed shutter speeds) to film subjects such as snow, sand or other bright scenes which could cause overexposure
8x = ND 0.9 (exposure adjustment = 3 stops, reduces ISO 1/8)